C-date Review

I know. I know. You've been on so many dating sites and all that you've seen so far are singles wanting to get into committed relationships. But you're not ready for that just yet, are you?
It's your lucky day, I'm about to introduce to you an online dating site where you can meet individuals with similar sexual interests. C-date.co.uk presents its users with an uncomplicated kind of dating, as it is a site intended for one-night stands and casual hookups. You no longer have to feel embarrassed being non-committal while also getting to satisfy your sexual cravings. That sounds a lot like eating your cake and having it. Yes, you can.
---
Why C-Date?
C-date stands as one of the best casual dating sites in the world. With the 'C' being an acronym for casual, the platform's set goal is to help you bring your erotic fantasies to life. It boasts over five hundred thousand members in the United Kingdom and over thirty-six million members worldwide. With over 50 thousand active members weekly, you need not worry about finding matches as there's always a long list of online members. You will never run out of matches to explore, with outgoing and straightforward users always active, and ready to have fun.
Launched over a decade ago, C-date is ranked most popular in Spain, second most popular in Germany, and third most popular in France and Switzerland. C-date is a virtual playground for those who want to spice up their love life. If you're looking for something sexually adventurous, you're in the right place. Right, carry on…
Getting Started
Registration and signup on c-date are quick and simple, and initially free. Within minutes, you can be browsing the profile of other members. Even more enticing is the anonymous nature of the service, all the information you need to supply is a username and an email address. Shy people? You can get it on too, no worries.

Creating a Profile
Log on to c-date.co.uk and on the first page, you'd be asked to select your gender and the gender you're interested in. C-date is not only for binary hookups; gay, lesbian, and even users looking for fetish play can all find like-minded people on the platform. You'll also be asked to supply information like:
What you're looking for on C-date; an affair, a distraction, Netflix & chill (how cool is that?)?
Your location, to enable the algorithm present matches that are close to you
Your age; for you to be matched with the right people
Your relationship status. C-date is set out to satisfy the erotic fantasies of all its users, even married people
Your looks; height, body shape, and other details
You email address
Your free account is now ready, and so are your matches. Yassssssss let's go!
Upload a clear picture of yourself to increase your chances of a response from your matches. You can choose not to upload a picture, or hide your picture from your matches in which case, it will be blurred, and you can release the photo to users at any time. The picture size can be up to 10 megabytes and in either .jpg or .png format. Your matches, online members are all readily available for you to explore.
Once you've confirmed your email address, you get a free premium trial for a few days. Females get to enjoy all of the site's functions without cost, that is, you're automatically a premium member if you're female. Males need to pay for a premium membership to access the site's full functionalities.
Finding Contacts on C-date
Exploring other members of C-date comes in categories. There's a Now Online section that shows you members that are currently online. Go ahead and send an instant message to any online user you choose.
My Matches shows you a list of users that have been generated by the platform's matchmaking algorithm, according to your set preferences. This is where you'll find the yin to your yang; the like-minded person you want.
My Visitors shows you users who have viewed your profile.
Design and Navigation
The touches of purple and white on C-date's web and app platform give off a modern and sexy vibe putting you right in the mood as soon as you log on. The dropdown menu allows for easy access to the site's features. Profiles of other users are made available to you in different categories as earlier stated, which helps you sort your shortlist. You can view profiles of other users and their (up to five different) photos, send messages, like profiles (although this feature is restricted to females only). You can also provide more information about yourself if you want by clicking on the "About Me' tab in the 'My Profile' section. For the icing on the cake, you can also share your 'Erotic type'. That just sounds yum.

Pricing and Benefits
C-Date is considered in the upper midfield when compared to other sites. C-date, unlike most providers, offers free features and also a free trial premium membership when you sign up.
You can choose from these flexible subscription packages:
1 month… £9.90
3 months… £39.90
6 months… £29.90
12 months… £19.90
In case you're being skeptical and wondering if the price would be worth it. Here's 26-year-old Josh's testimony:
"I just moved to the city about a year ago. As a newbie, I didn't have that many friends for the first few months of my stay. It was just work and home for me back then. Until one of my workmates told me about C-Date. I searched and checked C-Date reviews online and gave it a try. It was a casual dating site– exactly just what I was looking for. What I liked about C-Date at first was that I was given a free premium trial. Then I liked everything the premium membership has to offer. Although I had to pay after my free trial has ended, it was completely fine by me. There was never a lonely weekend for me since then! It wasn't really hard to find a match. Every day, I get messages from different women who actually want to meet up. It was really a good choice for me to try C-Date."
Exclusive features of the premium version include:
Contact Proposal: Once the matchmaking algorithm of C-Date's system matches you with a member, a contact proposal will be generated and sent to your mailbox, as a premium member. The proposal will include the details and preferences of the match.
My Erotic Type: Using five images, your erotic type will be determined and the result displayed on your profile. The types are; adventurous, romantic, wild, and conventional.
Photo Release: You can tick or untick the 'All women can see my photo' box to either allow or deny access to your photos. You can then release your photo to any user you want.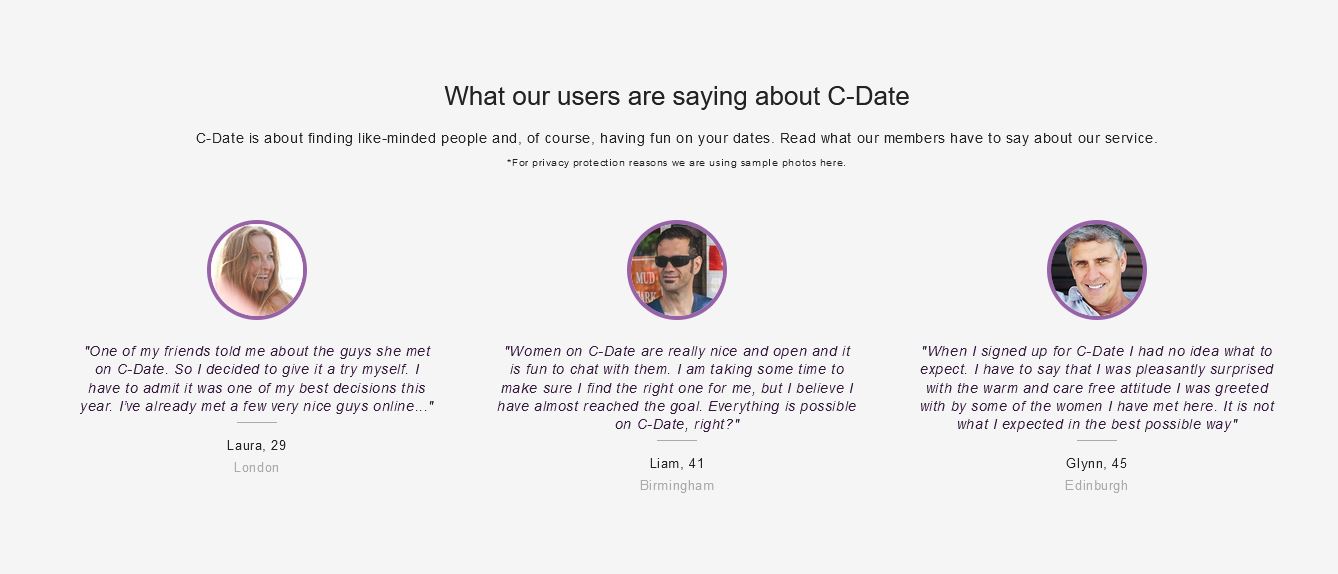 Conclusion
C-Date is for users who are looking to bring their erotic fantasies to life. With the balance split between male and female users, there is more than enough room for anyone to get their freak on, whatever their sexuality may be. Giving users the ability to expressly communicate what they're into, C-date edges out its competitors. So, are you looking for a casual sexual encounter or an erotic adventure with like-minded people? This is exactly the website for you.
Getting in touch with customer service is easy as you can send a message through the 'Help' tab on the site, or send a mail to service@c-date.com.