LocalCrush Review

A lot of times, boredom can lead us to searching for someone that will keep us happy, away from stress and worries. But the environment we find ourselves can be a barrier what we desire. A conservative environment where everyone mind their business and have little or no time to mingle with others can really separate hearts and so localcrush did well in bringing hearts together with their platform Someone once describe localcrush as an online dating sites where local people look for love. Lol funny, he is only being sarcastic. Localcrush is just like every other online dating sites with their brand name. localcrush is also a brand name and her services have nothing to do with local people. Engage with others within and other youe city for casual dating and long lasting friendship on Localcrush.
---
How does Localcrush work?
Registration is free and it doesn't take up to 30 seconds to sign up on the website. It is optimized for desktop, tablet and smartphone. First thing to do is to visit localcrush.co.uk on Google search and it takes you to the homepage where you are required to fill in your username, your gender,  the gender you are interested in, provide at least six characters username, mention your city name, give the correct details about your age(localcrush is particular about age because of adults photos within the site page), fill in your email address and password. A link will be sent to your mailbox for verification and finally you are signed up and your membership is live for others interested in you to locate you.
Creating Profiles                
As soon as you get your email address verified, viola you are on localcrush. What to do next is to create an appealing profile and you begin your search towards finding the ones that match with your desires. Be honest about yourself and what you want. Viewing all pictures, receiving and reading messages are done for free without limitation immediately after registration. You cannot send or reply to messages  on the free version except you buy credits. On the dashboard, there's an option to play mingle game to see your match ie who fit into your wildness and who just fit you without hussle. There are men who use women profiles to chat with users. You need to be careful. A lot of dating sites are out to rip you off and localcrush isn't an exception. When you create an account do not be in a hurry to buy credits use the free version for a couple of weeks and monitor other accounts.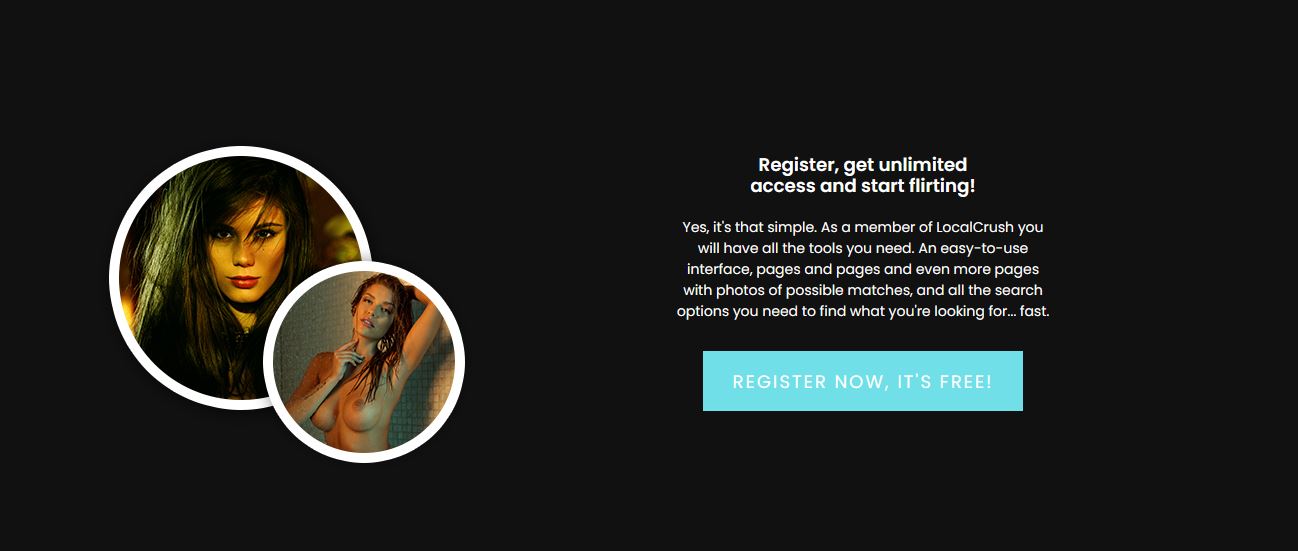 The profiles on Localcrush
There are over five million who can't wait to begin an erotic conversation with you. These people are also vocal about what they need as you will be able to view their profile. Over hundred persons create a new account daily on localcrush, giving you access to unlimited views and choices. Localcrush is strictly for persons of 18 years and above. It is comprises of both men and women who are in your city or close to your city. Just like every other dating site, there is likely to be fake accounts so you need to be watchful and report to the support team. Localcrush also agree to the fact that there are fictional accounts and news have it that staffs of the company create account they use in chatting with desperate users. Here's a few things I do not like about Localcrush and I agree people will tag localcrush a scam even though they have amazing features.There are a lot of fake and fictional entertainment profiles. They also stated it in their terms and conditions which you have to agree before creating your profile. I believe that can do better if they put in more work by building a structure and can make a fortune from it if they solve people love searching problem. They claim to have over three million members but yet you waste money chatting with profiles that aren't real. If you are someone looking to have a love affair I will advise that you not to use this dating site.
Contact features
localcrush contact features include;
A mailbox: this is comprises of inbox messages,outbox messages and a total of conversations you are having with members,
Speed dial icon: this features allows you to add members as Favorites
Visitors icon: this feature notifies you when someone view your profile
Members: includes lists of other interests on Localcrush
My Games: include lists of persons that match your interests
Gallery icon: this show you pictures sent by members.
Design and navigation
The interface of localcrush site page is dominated by blue and white colors with the picture of a beautiful woman as the background. It is easy to navigate the site. The terms of icons on the menu box are basic except for speed dial which is also known as Favorites. At the top of your dashboard is the love icon that that have a lists of your matches. The top left display icons to view messages, purchase credits, view matches and add profiles to speed dial. Navigating through the website becomes sleek and smooth when you become consistent to the website.

Cost en services
To be active you need to purchase membership Credits become invalid if remain unused after long period of time. It's not new that people call this platform a scam and I agree to this because it is so unreal for a member to send messages to a newly registered member with no photo or introduction. On seeing messages can give a user this wants to purchase credits. Just monitor the platform for few weeks before deciding to purchase credits. Although,You need to have unlimited option so as to find your spec.  Unlike other dating sites, localcrush site do not deduct money from your account when your credit is exhausted without authorization. This is a good one I must say.  Do not forget to chat the customer support if you need to delete your as soon as you no longer find this platform interesting.
Here is a list of gold membership package;
3 credits – 2.49
5 credits – 8.50
10 credits – 16.49
25 credits – 38.99
50 credits – 72.49
100 credits – 135.00
200 credits – 249.99
Payment method required for this services include Debitcard, visa(mastercard) and paypal.
Benefit of purchasing credits;
You can reply to every messages without limit.
You can add profiles on speed dial list.
Your profile will be shown to your matches.
Anytime Any day premium offers always give satisfaction than free version.

Conclusion
Localcrush is exclusively for singles who are searching for love. This is a free world where you can relate, connect and network with people who are also willing to pick interest in you. Be cautious of fake profiles because every dating sites especially paid version have fake profiles so as to lure people into buying more credits. Ensure that you read the terms and conditions of any dating sites so as to know when things goes wrong. The only option left is to ignore a member who you aren't interested in as there is no option for blocking unwanted profiles . Unlike other dating sites where users complain of withdrawals they didn't approve on the sites, Localcrush do not deduct money even after your credits have been exhausted. You only need to purchase once credits is finish more. Got more questions to ask? kindly send an email to support@localcrush.co.uk.