Nearbyflirts Review

If you missed flirting once you are gonna missed it again
If you don't read this now
"Hi, whenever I close my eyes I see you and for that moment I do not wish to open it"
 "A day without seeing you, the light in me goes dim"
 "if I were I musciani will make you my lyrics but not being a musician won't stop me making songs for you"
Does it sound like your thing?
You are about to learn about a platform where you can find flirting mates without stress and in your comfort.
No lies, No snitches, Just connection with the kind of person you are
some moment out with my guys and we were talking about how life has been after school. The topics we discussed was centered around work, job and love. Among us, Esther was one person who complained bitterly about love. She said she was tired of investing so much  into love and get nothing out of it and how she needed someone who wants something else aside Love. Edna a mate of ours burst into laughter on hearing that. She talked about her past dealings with men and was at the verge of becoming a lesbian when a friend of hers told her about Nearbyflirts.
In her words,
I was skeptical about this, I mean who goes online looking for someone to flirt with but we'll  am grateful for technology and the digital world. One thing I love about this site is that you can get someone within your reach. You do not have to spend so much time and money going out of your environment just to meet someone new . I mean everything on Nearbyflirts is just designed for your comfort. It is easy and doesn't take all the time.
---
How Nearbyflirts works
Nearbyflirt.com is a dating site with thousands of registered users from across different countries of the world that has made flirting easy.Nearbyflirts.com is best for men and women who play love games with words.
Getting started with Nearbyflirts
 Registering on Nearbyflirts is easy but what I do not like about it is that email of users aren't verified. Here's what I mean, upon Registration you asked to either sign in with Google account or your mail. I found it different to register via my mail because they kept rejecting my mail addresses I wanted to use but accepted my Google account and viola I am a registered member. This means that just anyone can create this account which doesn't seem legit. After registering successfully,you will need to answer these questions that will pop up on your screen
State your gender and the gender you are interested in
State your spec
Fill in details of your birth date
Click on your current region
Choose a nickname
Agree on terms and condition
Once this is completed,they claim to have give you free credits for chatting but this isn'ttrue because you will need to purchase credits.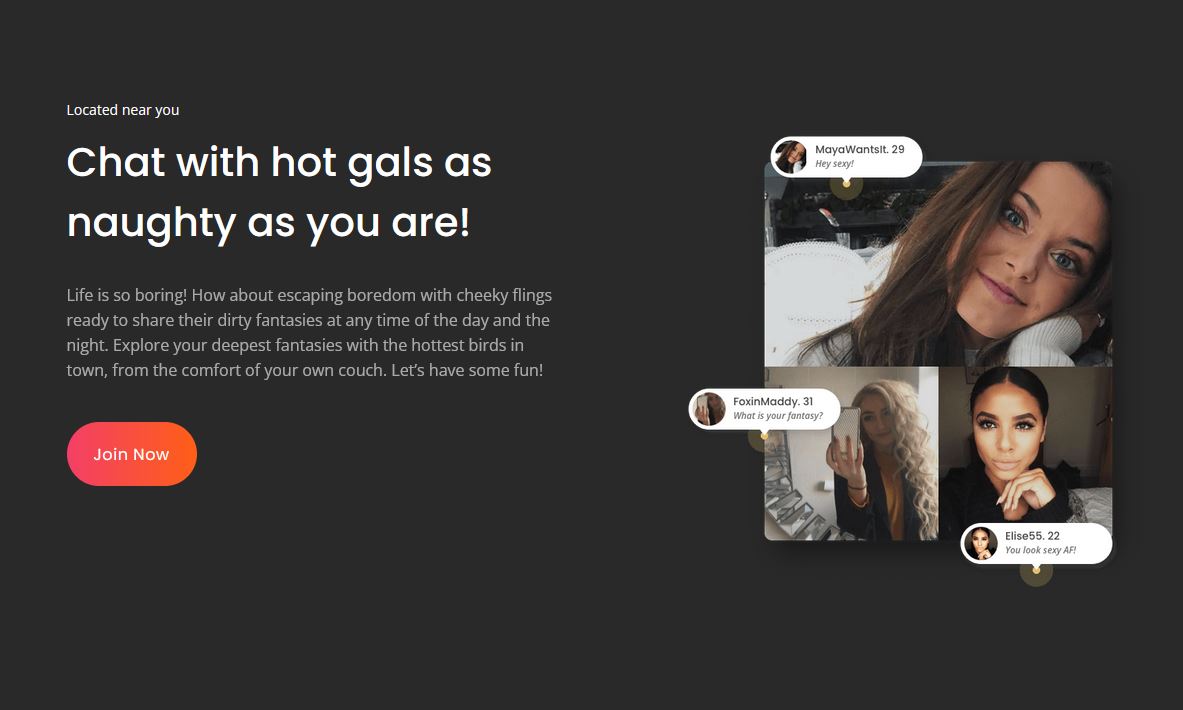 Creating Profile
Having a Profile requires that you;
Write about yourself
Share what attract you to the opposite sex
Select your present location
Share your travel location (this is optional)
State your body type
State physical features
You really should 80% honest about your Data. No lies keep it simple.
Profiles on Nearbyflirts
Most Profiles on Nearbyflirts aren't real. Some profiles do not also have photos on them.There are very few persons online. I do not think a lot of people use this dating site in search for flirt but then you might want to try this by yourself you might see something nice. Here's a few reviews of persons who have experience using Nearbyflirts;
Here's Jim review about the profiles;
I was on Nearbyflirts for eight weeks and I haven't gotten real connection with anyone.i will say maybe because it is limited to only your location. I find it a bit boring because you gonna have a long wait before you see someone you want. I wish Nearbyflirts will give more option to allow cities that you aren't currently in because this will help in connecting with those that aren't in your city.
This is Jim's experience and I can relate to this too. I wish for more access to locations I am not currently in. Also, some cities are more sociable than others. I really hope the team @ Nearbyflirts look into this.
Here's Anna review
Having been on this site for a month, it's easy getting messages from men but a lot of profiles have no pictures and I didn't find it interesting. Although I met someone in my city on Nearbyflirts. At first I was skeptical going to meet him because he got not so much details about him on his profile.After much thought I picked up courage to go pay a visit. We are still in communication. He told me the reason why he didn't want his pictures is because he didn't see the need to and the company didn't make it a complusory stuff.
Well,Anna got what she wanted.. That's a risk and a courageous woman too.
Contact features
One feature I like on Nearbyflirts is the Notification icon. This feature allow you to be in control of messages coming in. You can choose to turn or off notifications ranging from incoming messages from new flirt or the team.You also select which notifications you want to receive and off the others you don'tsee as priorities. Other features include;
Advance search: which permits searching for members using age and body features.
Sending flirt or message icon
Filter members: this allow you to set preference of matches. You choose the ages,hair color and tribe you want to see on your dashboard.
Another feature I think would have been more great is the option for video calling.It would be of good for users if this feature is Available.
Design and Navigation
The interface of Nearbyflirts website is beautiful and colorful with different shades of beautiful men and women. One can go from one icon to another seamlessly without any hus. Loading speed is very very fast.Every terms used on icons are basic and understandable.

Cost en services
Nearbyflirts do not offer a monthly subscription plan, there's no unauthorized deductions from your bank account. You purchase credits and buy more credit only if you have exhausted the ones you already have. Here are the lists of how much each credits plan cost;
3 credits – £2.99
5 credits – £8.50
10 credits – £16.49
50 credits – £72.49
100 credits – £135.00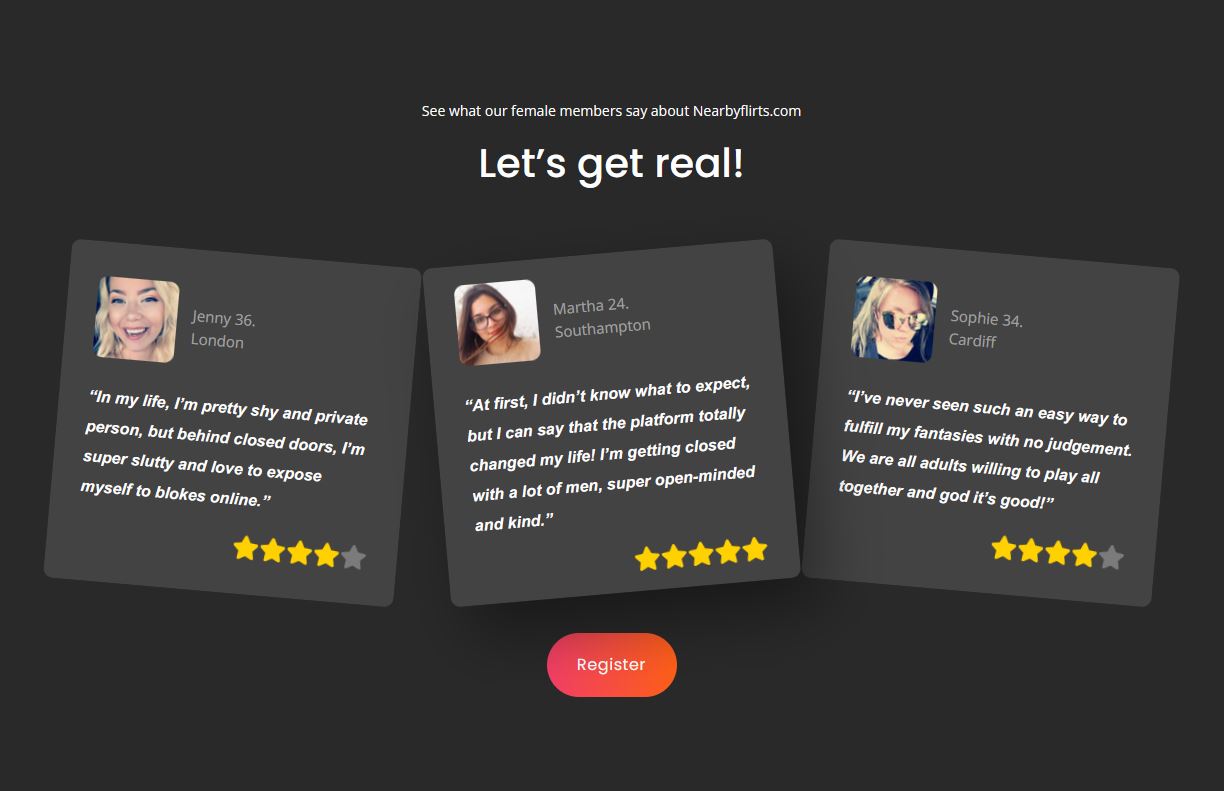 Conclusion
Nearbyflirts don't seem legit because there'sno email and photo verification.You really do not have to expect something serious from this dating site. As soon as I created a profile someone sent a message and I replied. I waited to get a reply but there was none this shows that it is a fake account. I do not think they have a large database as they claim. This is not to discourage your chance to explore this site but while you are here you should also be on other dating site in the United kingdom that are promising and have a large database. Whether you really don't mind about going deeply into love or you enjoy having fantasies with different breed of people this is the best site to use. You might get lucky and find the one that will keep you down.if you have any issues or wish to make more enquiries you can send a message here team@nearbyflirts.com.