NextdoorFling Review

Does marriage restrict humans, especially women, from lusting around and searching for escapades to satisfy their sexual urges outside of the "matrimonial bedroom"?
Sandra loved her husband so much, but she loved seeing other men too, sadly. Neighbors saw her once in a while. Rumors went around that she's cheating and got hooked up with some she met on nextdoorfling, just before her hubby got wind of the situation due to conversations flying from mouth to mouth, she already filed for divorce. When Sandra was asked why she filed for divorce despite the love she had for her husband? She began explaining how her husband wasn't satisfying enough in bed.
---
How does nextdoorfling work?
NextDoorFling.com is an ideal platform for you to frolic around naughtily. You are safe there as you can decide to be slightly anonymous or well known. It is also an open space to fake your identity as there don't seems to be verification. You can choose between having a relationship remotely or having a fling with someone close by. It is easy to get started via: 
Registering: You should not find registering a difficult task as it requires only your time, which is less than ten minutes, and your internet connection. Type in your preferred "username", and as is normal procedure on sites, decide your preferred "password". The password should be unique and common, known only to you. You will need to enter your email address. The site prefers Gmail. A confirmation code will be sent to your email. You might have to check through your "promotions" or "spam" folders in case you can't see it in your primary messages.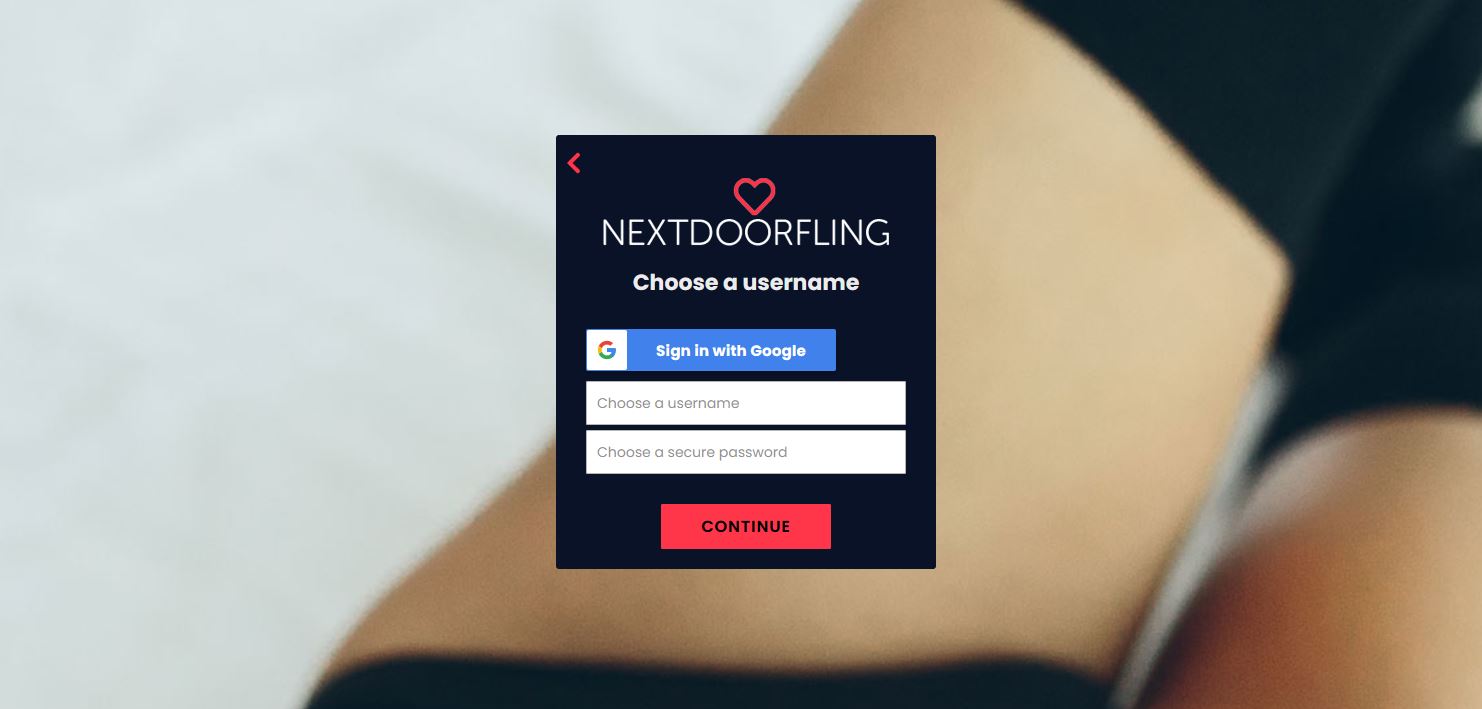 Creating your profile
After you have confirmed your account via email, expect to see coy messages from ficitious profile. Although those messages are most likely going to excite you, it's important to know, not note, that they are just automatic responders with fake photos of appetizers. Help yourself by clicking fast through the load of interviews or simply skipping them. Next, complete your profile and add a photo. You need to fill in some details about yourself. Be straightforward, concise and do not be boastful. There is no use bragging about achievements or how cool, nice, and good you are. If you love travelling, state that in clear terms. Questions like your height, body type, marital status, and other details will be thrown at you. These details are required to boost your link-up chances and other sweet things. You know what I mean.Don't forget to add your photo. It is important for facial recognition.
The profiles on Nextdoorfling.com
Faces of beautiful women and men would pique your interest, assuming you are a man or woman looking for hookups. Their profiles are well articulated with mentions of physical traits, age, location (in some profiles), and so on
Contact features
As found on most sites, there is a drop-down menu button at the top right hand corner. This gives way to easy access to options like the match game, favorites, your credits, your profile (including its settings) and a few others. Other features, including the inbox, chats, and attachments, are all visible right away after login, filled to the brim with ready-made direct messages.It is not news that you automatically get messages from contacts after your profile registration and account confirmation. Various profiles of men or women range from petite, young, plump, old, blonde, to dashing, bashing, cute, and trumped. You can possibly get a glimpse of what you want by going through each "profile" you come across. You can get information about a potential partner by going to your "messages", "visitors", or "favourites" you added yourself.
Design and Navigation.
The site's colors are a mix of black, red, and white in the correct proportions. The background is black all the way through. The icons are white. Other areas have background of red colors, including the edges. The inbox bar is at the top right corner. You have signed up, confirmed your account and set up your profile. Nextdoorfling is simple enough of a platform for even an average human to scroll through it easily. The options are well arranged and easily accessible. You won't be accosted by ads. The user interface is friendly and very swift.

Prices and services
I was stunned when I discovered I couldn't reply to messages at all. Signing up, registering, receiving email confirmation, and other tidbits cost nothing more than your internet connection and data service. Time is not on anyone's side, so you will surely go straight to what you are on the platform to do. You pick a direct message with the aim of chatting with a potential hookup mate. The least message fee amount is a pound, with a three-pound package for three messages. There are other bigger packages, with the most popular ones being the two pounds per text, forty pounds, and one other. The site insists this is a credit system, you buy messages credit on and on.
Here is a list of message;
3 messages-£3.50
240 messages-£300
100 messages-£150
62 messages-£120
Messages: £240
6 messages-£15
Kindly read these reviews from persons who have use nextdoorfling credits and these are really honest reviews. It will help your decision making.
Shortly after my registration on nextdoorfling, I didn't get notifications from profiles as other blogs has stated in their reviews. I began searching for a mate and I saw a profile that seems attractive. His first line read 'I will leave you wanting to create more memories'. This was striking and these words are what I like to hear haha. I quickly purchase 62 messages credit and sent this dude a message. We had this connection but when we finally met offline I was disappointed. He isn't as interesting as he appears to be online. Monica
What I don't like about nextdoorfling is the credit system. one can actually get what they want but the rates at which they charge for messages is suspicious and people wont be quick to label the site as a phony one. I found Lisa on nextdoorfling, she has being my sex partner for months now and we,ve done a lot of crazy stuff together. And yeah I am grateful for the platform but they can do better.
The payment method for this platform is visa(mastercard) and Paypal. There wont be unauthorized withdrawal from your account after you have exhausted your message credits. You purchase new credits only if you need to.

Conclusion
Not everyone will get the same results, so you shouldn't put in all your hopes in nextdoorfling if you are in search for love. Its best you keep your options open and register on other dating sites that seems promising. Marriage didn't stop Sandra from following her heart, do not let anything stop you from getting what you want. Nextdoorfling do not have option for blocking members who don't want to see anymore and so you must stay watchful while using this dating site because of it numerous fake profiles. Honestly the platform makes money from your credit purchase and so they won't mind sending you up to ten mail notification daily from profiles who they claim messaged you on you account. Ignore the mails you will receive and go do the searches yourselves. The sites looks promising but don't be so desperate to respond to all inbox messages. Taking your time and watching how profiles do well in two weeks is the best way to know if you can get what you want from nextdoorfling. Kindly contact support@nextdoorfling.com if you have any issues.