Taimi Review

Are you finding it difficult to hook up with someone into LGBTQ+ without getting mouth slashed?
Look here!! Taimi.com is here to help out. It's sometimes frustrating wanting something, but people won't allow you to express yourself. To Say your choice of relationship, they sometimes find it strange.
Come on!! Don't give up on your choice. Right on the Taimi.com platform, you'd get what you seek.
Hello, let's get to know Taimi.com.
---
Get To Know Taimi.com
Taimi.com is an LGBTQ+ platform. It is one of the biggest social platforms for LGBTQ+ people. It was founded in Las Vegas in 2017 by professional software programmers Alexander Pasykov and   Jake Vegan, his co-founder.
Initially, the Taimi platform began as a community for gays, but along the line, it started experiencing a massive expansion beyond its imagination. After seeing the high rate at which people join the community, individuals looking for a safe place to find their choice of a partner without discrimination or condemnation joined the platform, and It was transformed into LGBTQ+.
However, in 2018, Taimi grew and became the most exclusive and universal community for LGBTQ+.
It has over 11 million subscribers on the app who are free to express themselves, hook up, flirt, and find their love interest.
How Does Taimi.com Work?
Starting on Taimi.com is simply excellent and easy to access.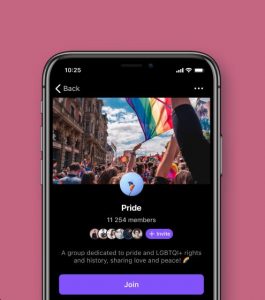 Go to the website click on the 'sign in' space provided. Enter your username, your gender, and you will be directed to the next stage, where all the necessary details about you are required. You can either use Facebook,  Snapchat, your phone number, or email to get started on the Taimi.com platform.
On the platform, the use of valid email addresses is exclusive to some locations. However, if you are in a place where you can use an email address, once you add your email address, it will direct you to your mailbox for verification. Make sure all the details you are adding are correct. Remember, Taimi.com uses your compatibility test result to suggest attractive profiles close to your destination. Only those who used email addresses need a password.
Registering
To become a member of Taimi.com LGBTQ+, the first thing to do is, go to the google play store and download the Taimi application.
 If you are an android, iPhone, or Ipad user, the app is available for download.
 After a successful download of the app, you can choose to register through your Facebook, Snapchat, or your phone number.
You can only use an email address if accessible for your location. It is selective.
In addition, only accounts registered through email require a password. If you choose other options available, you don't need a password to register an account.
Creating Your Profile
Once you are done downloading and registering an account, the next thing to do is, create your profile.
Input all the necessary information, like your name, birth date, and location.
Choose the location you want your prospective partner to come from. Remember, it must not be more than a distance of 51 to 200 miles.
Give answers to questions on compatibility.
Add beautiful pictures of you. Please make sure they are attractive enough to attract your desired match. Images are what the community members see, making them sexy and catchy to the eyes.
Make sure you answer questions about your hobbies, favorite meals, and choicest lifestyle. The best places you love hanging out.
Hurrey!!! Your account is ready. You can now begin to search for your desired partner and also attract someone.
The Profiles on Taimi.com
Taimi.com has over 11 million members in its community with beautiful, handsome, and attractive profile pictures. It's made up of males and females aged 18 to 80 years. Men and women on this platform can only connect with someone close to their location, and new users open accounts daily on Taima.com. So you get to see so many attractive profiles, both old and new users, and thus, it is easier to find a partner.
Contact Features
Taimi.com has impressive features that make communication on the platform easy. Users have access to icon buttons which they can use to send a wink or an invite to a profile they find attractive.  One of its main features is video calls and sharing of content. The platform runs live streaming, which keeps its members together and bonds more. It allows Its users to inbox one another and share posts and stories. Taimi.com shows you suggestions of people close to your location that are gorgeous!!! So you don't need to use the search button. Amazing!!! Right? The platform records over 2m+ live streams monthly.

Design and Navigation
Taimi.com is an excellent platform widely used by LGBTQ+ members across the globe. Taimi.com LGBTQ+ community interface is Rainbow gradient and a mixture of different colors as their symbol. It's a beautiful view. It is a website with an upgraded application interface. The community's new logo and brand personality are the first of their kind. Note that this unique design is the only app redesign done since its inception.
Interestingly, Taimi's new design allows it to use any color of its choice for communication, and it does not regard any color better than the other.  Easy to use, newbie-friendly, no complications. New users do not find the platform hard to navigate through. However, consistency on the site helps you get used to how it works.
Cost en Services
To Be active on the Taimi website, you must be registered and have an activated profile. It offers a free trial, and immediately you are subscribed to it, you automatically say yes to its premium subscription Once the free trial expires. Although those on the free premium trial enjoy almost the same benefit as those on consumable premium, there are still so many boosts they are deprived of.
Whenever you are on a free trial, don't forget to cancel 24 hours before it expires. Failing to do so, you will automatically be charged for the platform's premium subscription. I know you won't want such a cash expense, but think again, you need the premium subscription to see a more attractive profile to flirt with. Moreover, a free premium trial is done once, after which you can switch for an upgrade. Upgrading to consumable premium helps you find your spec easily because you will get to see all the photos on profiles.
Taimi.com offers services such as the purchase of coins and digital gifts. It serves as a digital element of their user interface. Furthermore, these gifts, coins, and diamonds are their diligent property and cannot be given out without a license. Its services are excellent at affordable prices. Here are the fantastic plans to consider.
 $14.99  one week premium upgrade
$41.99 one month premium
$18 – 53.99 three months premium
The one-year premium plan is $6.00 to $71.99.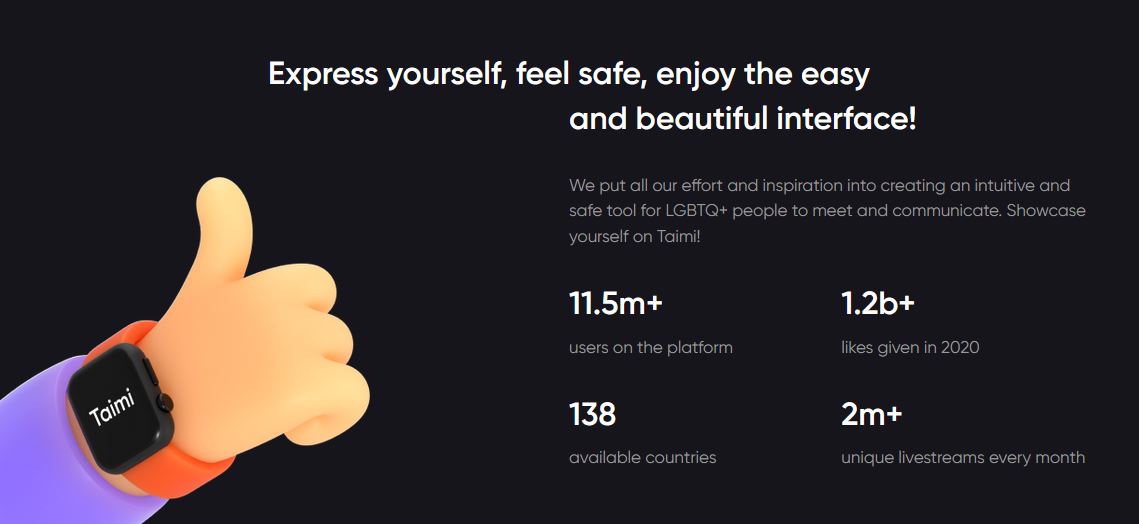 Conclusion
In summary, Taimi.com is an LGBTQ+ platform widely known as the most powerful platform where LGBTQ+ are free to live under the same umbrella. Here, they are free to associate and find their love fantasies without prejudice. In the forum, they are all like-minded, and there is nobody to make any condemnable comment to make anyone feel bad.  Amazing!!! Right? Yeah, LGBTQ+  can now live the life they choose and be free to be with the gender they find sexually attractive and love. Hurrey!! Taimi.com got you 100%.